The Fresh Air The welcoming sound of leaves dancing in the breeze. The taste of native food. The smiling people. Really, how can you resist it all?
There are times that all you would want to do is escape the hustle and bustle of the city. Times when all you would want is to give yourself the chance to experience the life you never have, the laid back and humbling kind. There are moments that you just want serenity, a breath of fresh air and experience greenery like never before.


If you ever find yourself in such a feeling, there is no other place to go but the Maribojoc Organic Demo Farm. There is no need to get yourself to the Himalayas or the Amazon; all you need is to get yourself a Bohol Ecotour and your plan of urban escape will soon turn into a reality. The Maribojoc Demo Farm is a haven for all those with green thumbs! It serves as a training ground for students, farmers and hog growers as the farm are blessed with a rich resource of both flora and fauna. Many of these plants and animals are subjects of public enjoyment and sometimes scientific study.
The farm also serves as an ideal location for educational trips. During the ecotour, short farm tours are held with activities ranging from full-day sessions and farm tour activities such as:
– Rare breed conservation sheep and cattle
– Organic vegetables and arable crops
– Farm machinery
– Flowers, birds, bats, butterflies, dragonflies and much, much, more!
And in this little paradise, you'll be surprised that nothing is put to waste. Anywhere you look in the area, you would see trash bins where solid wastes are properly segregated. The garbage is then decomposed using the suitable earthworms species (Eudrilus eugeniae). Vermicompost and vermimeal are organic fertilizer and feeds, respectively, produced from earthworm thus replacing up to 50 percent of chemical fertilizers used in the gardens and plantations. When we say organic, we mean fresh fruit and vegetables that are grown with zero exposure to chemical fertilizers, synthetic herbicides or pesticides. You can pick your own fresh fruits in the fields or you can always let the staff on the farm do the picking for you. Otherwise, if you're feeling a bit lazy, you may simply purchase the fresh fruits and vegetables at their stand.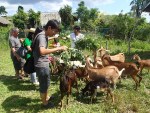 Source: www.boholtourismph.com
56 total views, no views today