Panglao International Airport is a new international airport being constructed on Panglao Island, Bohol Province in the central Philippines.
The Panglao international airport is expected to have a capacity of 2 million passengers a year once it is completed. Aside from being designed to use natural ventilation, one-third of its electricity will also be sourced from solar panels on the roof of its passenger terminal building.


DOTr said both local and foreign tourists will soon land in an airport providing direct access to the island paradise of Panglao in Bohol. The Panglao airport is dubbed as the country's first eco-airport which boasts its green and sustainable structures. The new Panglao international airport is designed to be compliant with international standards and to handle the increasing passenger influx in the coming years. The PHP7.4bn ($156m) facility will replace the existing Tagbilaran airport, the country's 11th busiest airport.


To be built on an area of 216ha, the airport will be a greenfield construction and is estimated to be ten times bigger than the existing airport. Tagbilaran airport is built on an area of 850m² and handles approximately 800,000 passengers a year, whereas the new airport will be able to manage 2 million passengers a year. It is also expected to boost tourist arrivals and improve trade. The airport is designed to accommodate two million passengers, more than double the capacity of the current Tagbilaran airport. The passenger terminal building has an area of 13,884 sqm and equipped with 3 boarding bridges and a baggage handling system. The apron was likewise engineered to accommodate seven aircraft at one time, including large aircraft for international flights.
Please visit PanglaoInternationalAirport.com for more information and best Guide for hotels, cheap hotels, discount hotels and vacation packages.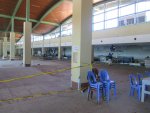 267 total views, 1 views today