Panglao Island in the province of Bohol has reopened its doors to tourists according to a ranking Palace official.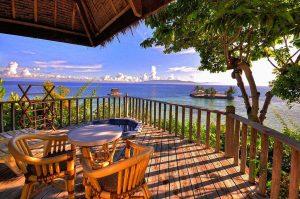 Bohol is known as the number 1 tourist destination in the Philippines, not only do they have the white sand of Alona Beach, they have the Chocolate Hills, tarsier, and the Loboc River cruise, and many more tourists attractions that only in Bohol. Allen Varquez, president of Bohol Association of Hotels, Resorts, Restaurants, Inc. (BAHRR), said hotels, resorts, and restaurants are ready for the reopening of the island.
Panglao tourism is a major contributor to Bohol's economy. But tourism in the world-famous resort town ground to a halt during the pandemic when lockdowns were imposed to keep people at home. At least 10,000 tourism industry workers either lost jobs or were furloughed. In Panglao alone, the tourism business lost an estimated P1 billion in hotel revenue and at least P308 million in room accommodations. Panglao has 4,753 rooms for tourists in different resorts, hotels, and related establishments.
Chair of the provincial tourism council Lawyer Lucas Nunag said the pandemic had not changed Bohol.
"Beautiful as ever," said Nunag. "We have prepared new sites, especially relating to our heritage and cultural assets," he added, referring to newly-restored churches that the 7.2 magnitude quake had destroyed in 2013.
Travel Update 2022
The Tagbilaran City Sea Port dropped the previously mandatory presentation of vaccination cards by arriving passengers after the policy was scrapped by the provincial government.
Gov. Aris Aumentado issued Executive Order No. 32 which abolished the vaccination card requirement which has been imposed since the country launched its inoculation drive against COVID-19 and the province started to reopen in 2021.
The port official expressed support for Bohol's Business and tourism development as he noted that the policy had been an inconvenience to some arriving passengers.
Gantalao added that the abolishment of the policy has also eased the burden on the Tagbilraian seaport personnel.
Previously, the Tagbilraian seaport personnel had to check and validate the vaccination cards of the hundreds of passengers who arrive in the city daily.